Get the Wp Starter Guide.  In this tutorial you will shown how you how can create a website using WordPress. Especially a great guide for beginners who are just learning how to set up their own website. You are about to gain a tremendous tool made just for you, with the ease of getting your personalized site going.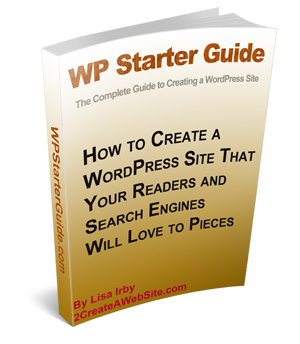 Create Your Stunning Website With Wp Starter Guide

WordPress was originally designed for news-oriented sites. Because of its ease of use and it's flexibility, people are now using it to create all kinds of websites.  Your site will be organized in the most logical way and there are so many different ways to use WP  to optimize your ability to make the best site possible. Furthermore, it will make you experience with WordPress enjoyable and easy.
The WP Starter Guide is not only the perfect starter guide for anyone new to WordPress, but this tutorial will show you how to make the best use of the dynamic and static functionality.  Therefore, your content is organized in the most logical way to your visitors.
This guide will make learning a breeze and fun!
What Does The Guide Include?
125 pages (PDF) of up-to-date information on how to use WordPress to create your own website. Instant download — requires Adobe Acrobat Reader to view.
Tips on topics and keyword research, SEO (search engine optimization), promotions, plugins, making money, writing   content, layout, security and customizing what you would like to have for your blog.
An entire Chapter is dedicated to layout that will help you make your WordPress site easier to navigate.  Additionally by using static pages that will potentially improve your site's search engine optimization
Also, Instructions for adding and floating social media icons in your header
Discover how to easily add AdSense ads to your sidebar
Another addition is Several colorful screenshots for illustration and easy reading
You get help with using the WordPress Menu feature to create drop-down navigation menus in seconds
Most of all you will receive FREE lifetime upgrades!  Because WordPress is always being updated, you will be kept up-to-date on the major releases and send you (via email) a copy.
The best support
Our Happiness Engineers work night and day through live chat, email, support pages, and forums to answer any questions you have.
 Most Of All it is Easy to use!
In conclusion, Creating and managing your website is simple with WordPress.com's powerful platform. Get started in minutes and make changes to your site easily.